Bodywork&Dessert
A Valentine's Party
February 10th, 2018
Captivating.
Indulgent.
Seductive.
Magic.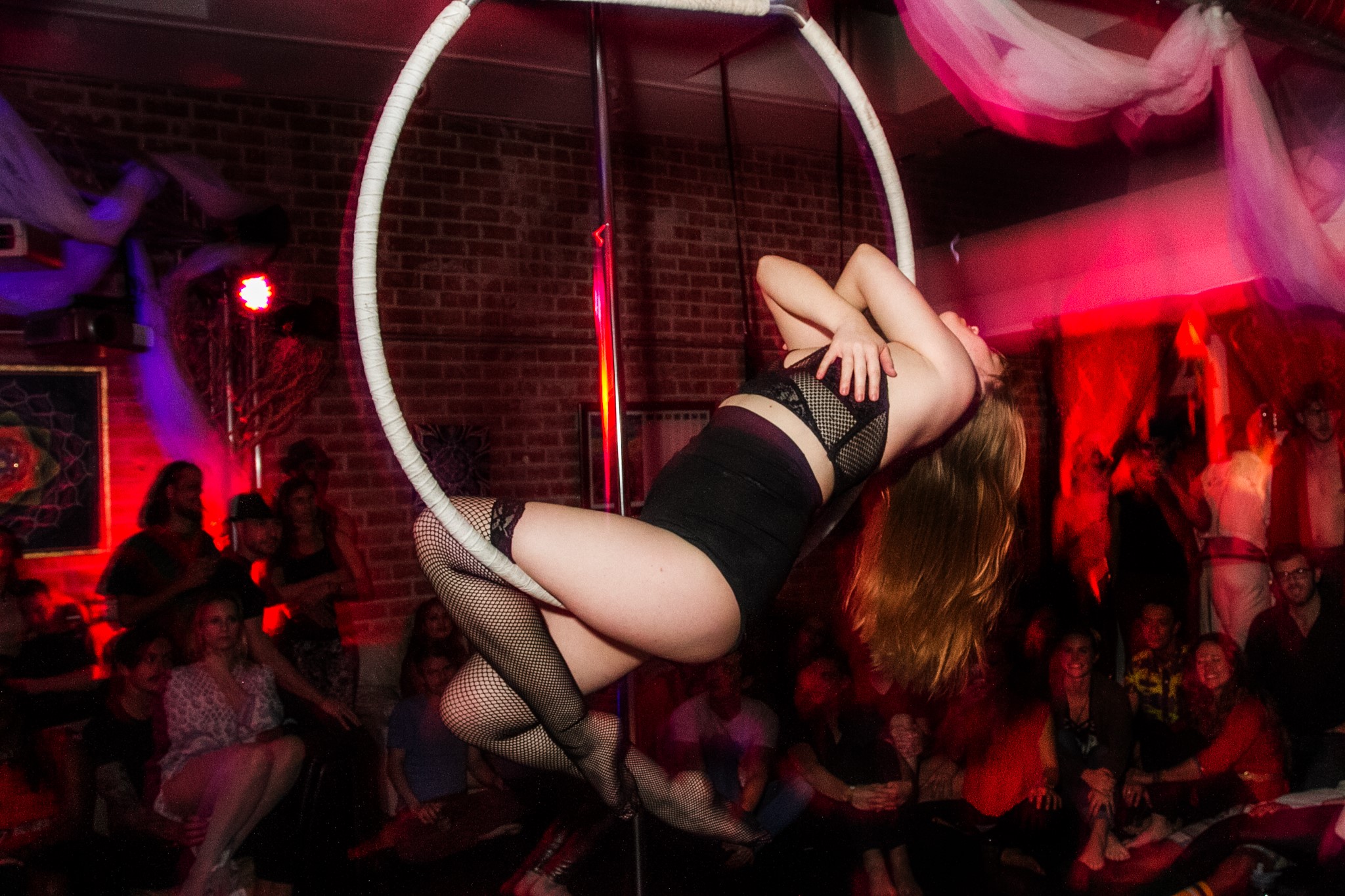 The Line Up
Join us, dear friends, for the 16th annual Bodywork and Dessert Party!
With three distinct spaces, you can engage in a range of activities and moods at any given moment. Enjoy acro flight & massage in our Embodiment Room; share a chocolate strawberry and conversation over a cup of rose petals & damiana in the Tea & Dessert Lounge, or shake your tail feathers to downtempo electronica and soul singers, along with enchanting pole dance performances in the Groove Space – there's plenty of room to play and create as you desire.
Spend the evening sharing these new and familiar delights with an amazing group of friends and lovers...whether bringing a sweetie or arriving solo, you'll find plenty of opportunity to nourish and be nourished...
6:30pm – Velocity Romance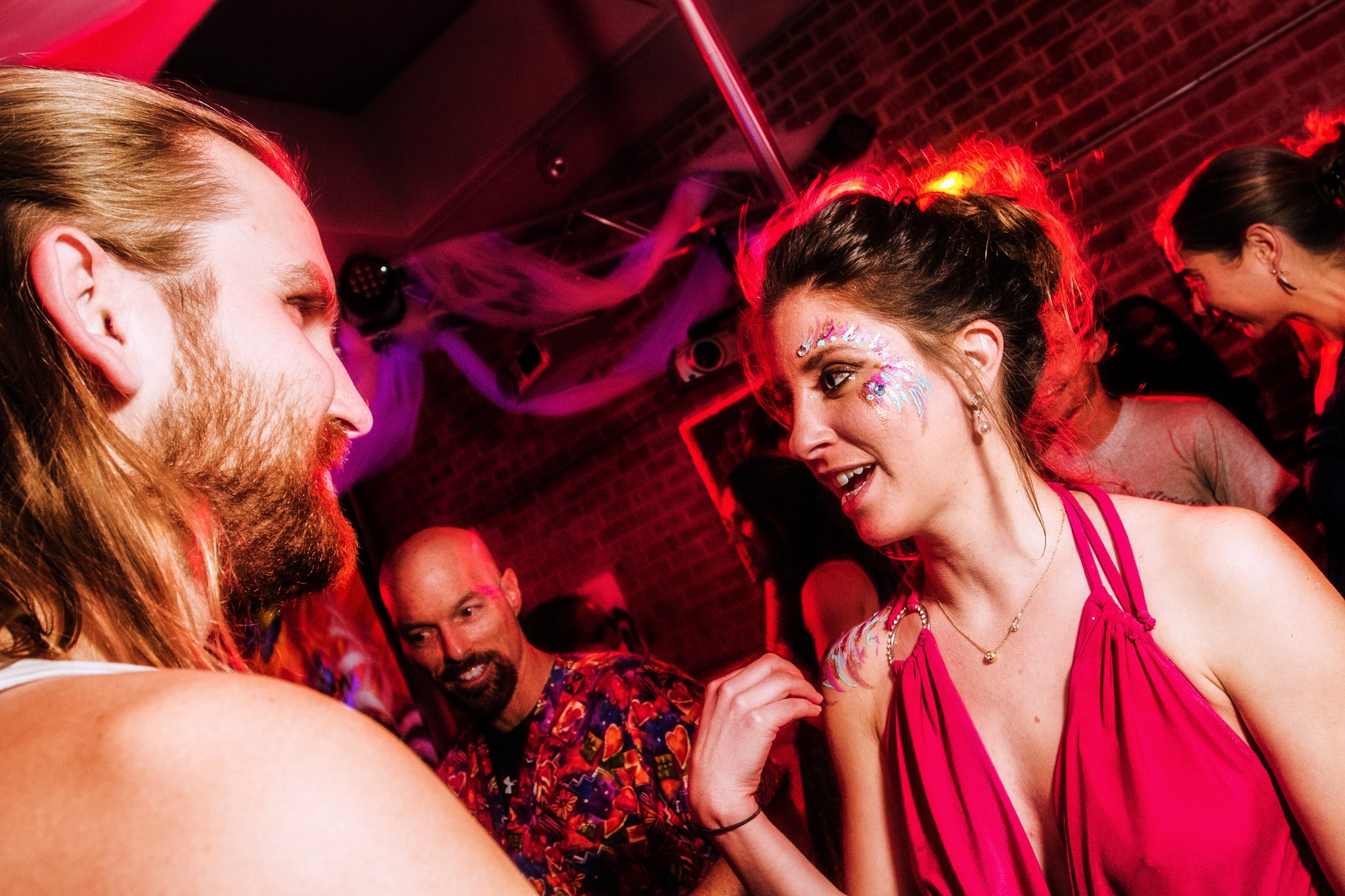 Led by Mikka Minx, This is a speed dating game like no other!
Great for singles, couples, or anyone looking to add an extra one or two to your party ;) This will be extremely fun, especially for those arriving solo!
Led by Zach & Alex of The Acro Shibari Project
Shibari is a form of Japanese rope bondage meaning 'the beauty of tight binding'. After learning some simple, beautiful ties, we will take our partners into the air, supporting them in basic flying poses. A special opportunity to playfully explore the ways surrender & trust can lead to deeper connection. If you have Shibari ropes around 7m-8m long, please bring them!
8:30pm - Hang Drum Performance
Yogi Prateado is a multi-instrumentalist who travels the noosphere with the Hang, percussion, electronics, and other devices to woo harmonious pulse. Enjoy his soothing melody while you enjoy your therapeutic flight and bodywork exchange.
9:00pm – Thai Massage Workshop
Enjoy being led through a blissful massage class by Bhaskar Banerji, who teaches an integration of Thai Yoga Massage, Shiatsu & Breema at McKinnon Institute. Be prepared to give, receive, breathe, relax, and connect with your community. Feel free to bring essential oils or lotions. Come with a partner or meet a new friend at the party!
10:15pm – Sensual Sound Healing w/ Aleksandra Dubov
1:30am - Closing Circle by Carley Corrado
All Night – Brilliant Elixir Cocktails
Brilliant Elixirs will be serving up two aphrodisiac elixirs & elixir cocktails packed with cacao, maca, kratom and other botanical sources of bliss for your sipping pleasure!
All Night – Raw Chocolate Bar
7:30-9:30pm – Body Painting
Bottomless cups of signature aged puers and aphrodisiac teas included in your ticket price – yum!
All Night – Dessert Deliveries
Our sexy sirens will be servin' up delicious surprises from your secret admirers all night long
All Night - Fantasy Valentine's Mailbox
Missed connection? Want to express your love? Are you secretly admiring someone?
Make them a valentine at the fantasy mailbox station!
All Night - Astrology with Rebecca Farrar
Rebecca Farrar is an archetypal astrologer focusing her readings on relationships and career counseling. She loves diving deep and uses a depth psychology lens for her sessions. She is a major astro-geek and loves astrology for the way it provides a valuable tool for self-knowledge.
All Night - Decadent Desserts by Rhythmic seed Cuisine
All Night - Photography by Christopher Baldwin, Photobooth by Quincey Cardinale
All Night - Emcee Wonder Dave
Wonder Dave will be joining us as our all star MC for the evening! His poignant blend of satire and comedy will ensure laughter and levity all night! Be prepared for some most entertaining (and a bit risque) audience participation games!
Wake up your body for a night of dance with Nona Fender & The Benders! They'll get us moving & grooving while teaching therapeutic flight, acroyoga and massage techniques - BEnder style!

Good Times Yoga is:
"A radically inclusive electro boogie movement experience that playfully weaves the sacred and profane for a freakquency raising celebration of life in a body"
Totem Pulse fuses tribal dance beats, scintillating instrumentals and lush, seductive vocals into a genre-bending musical experience unlike any other!
BlondeOnyx handcrafts all of his textured sounds and layers them over downtempo, driving beats, then lending his smooth voice to the top like so much cream on the cake...
11:30pm - Poetry by Zach Beach
Zach will be seducing our emotions as we gear up for the steamy pole dance performance showcase!
Zach Beach is committed to building a world based on unconditional love and connection. He does that as a teacher, yoga and acroyoga facilitator, poet and writer, helping people lead happier, healthier and more loving lives.
11:30pm – Pole dance performances
Get ready to be seduced by the Minx girls
Amae Love, soul singer deluxe, melts hearts and tantalizes minds with her deep and inspiring melodies - she is joined by her full jazz band LIFE to create this scintillating performance that will have you tingling all over!
1:30am – Graham Patzner
Graham Patzner graces the stage with a captivating blend of smokey blues and sensual soul music, tickling ivories in one moment and wailing trumpet in the next... and sometimes both at once! A true minstril, its a pleasure to host one of San Francisco's most talented musicians to the evening!
We are so excited to host this year's Bodywork & Dessert Party at The Center SF!
Address: 548 Fillmore st.
Doors open at 6pm
Dress in nonrestrictive clothing of gold, red & violet.
Arrive ready to fly, dance, massage and cuddle all night!
No shoes allowed inside, bring some cozy socks
Complimentary coat-check provided for all your gear and goodies.
There will be no tickets sold at the door. As with every year, we WILL sell out - grab a ticket while you can :)
Don't forget to hashtag #BWD16 so we can see all your awesome photos!
Meet your producers.
Mikka & MG are passionate about experiential event production and are so excited to host Bodywork & Dessert, one of their most magical, memorable, heartfelt events of the year. They can't wait to share this very special valentine's day with you!
"This was the best party I have ever been to. If heaven existed it would be pretty close to what we experienced last night."
-Brian Ley